Two weeks ago, I had talked about Miga, our neighbor's dog who loves to visit us everyday. It came to a point that most of her time was spent here with our pack rather than her supposed family.
I've also mentioned to Yuki and Rocket's mom that Miga was badly hurt by her owner. Her leg was twisted and she was limp on that leg for more than a month.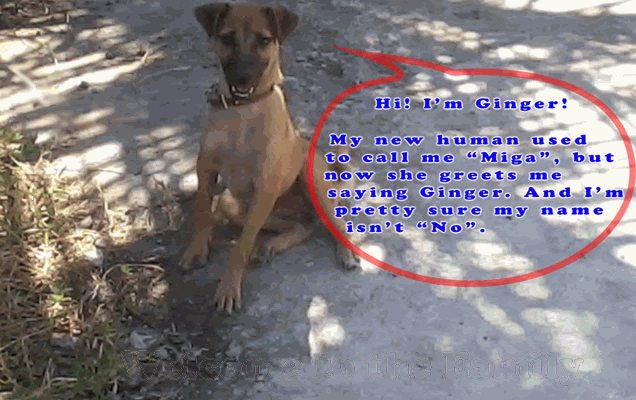 Our neighbor is pretty giving when it comes to her pets. She isn't exactly the responsible owner type. So one day, she tells my mom that in exchange for $2.50, she was going to give us Miga because she needed to buy food to feed her kids.
I've already expressed my liking to Miga. She's, miraculously, one smart puppy. She learned the sit trick within minutes. I guess it's because coming from a home who doesn't give her much affection, she's was too eager to please. She also has pretty almond shaped eyes.
So today- that would be one and a half week ago- I am officially welcoming Miga into our home. My boyfriend changed her name to "Ginger".