I had planned to talk about Caoimhe's passing a week ago. I felt guilty for not being there for Magic's mums and the entire pack during such a devastating ordeal.
Thank you for posting this in your blog, Magic.
I truly hope that their hearts have healed and mended after having to do that heart-wrenching decision.
On a more lighter note, still related to Magic, I have sewn Timothy the Turtle back to life. He was one of the first toys we ever got and coming from Magic, nonetheless.
He was ripped apart by Peanuts and Ginger a couple of months ago, so I took the liberty of taking him with me so he can live a longer and happier life with Chooey.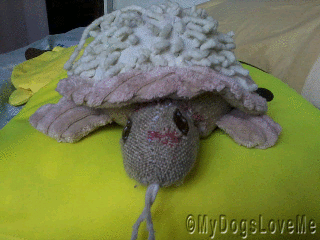 Minus the squeaker, plus a couple of Frankenstein stitches and VIOLA! Timothy is ALIIIIVEEE!!!